Introductiecursus Musculoskeletale Echografie
Tijdens deze eendaagse introductiecursus ervaart de cursist wat echografie is door het leren van scannen van twee veel voorkomende indicaties in de praktijk, namelijk de Supraspinatus (tendinopathie, partiele ruptuur, impingement) en Achillespees (tendinopathie of rupturen).
WHAT YOU'LL LEARN
De cursist verkrijgt theoretische kennis over wat echografie is, en welke plaats het inneemt binnen de klinische setting;
De cursist verkrijgt anatomische kennis over de 2 onderwezen structuren;
De cursist leert het MSU-apparaat praktisch te bedienen;
De cursist verkrijgt praktische vaardigheden om de 2 onderwezen structuren te scannen;
De cursist leert zijn beperkingen, en de leercurve van echografie.
Cursusonderwerpen
Supraspinatus regio:
Caput humeri met gewrichtskraakbeen; collum anatomicum, tuberculum majus
Acromion, processus coracoideus met ligamentum coracoacromiale
Deltoideus, supraspinatus pees
Bursa subdeltoidea, subacromialis
Rotatorcuff interval met de tranversaal de lange biceps pees
Achillespees:
Calcaneus, Tibia
Flexor hallucis longus, m.soleus
Achillespees, bursa retrocalcanea, vetlichaam van Kager
ELearning
Na uw inschrijving voor de eendaagse Introductiecursus Echografie krijgt u kosteloos toegang tot de introductiemodule op het unieke Engelstalige eLearning-platform. Met behulp van het eLearning-platform krijgt u een optimale voorbereiding op deze cursus. Het eLearning-platform biedt u ondersteuning naast de reguliere opleidingsdagen. Deze vorm van leren combineert de beste elementen van regulier, face-to-face onderwijs, namelijk gepersonaliseerd leren en sociale interactie. Daarnaast kunt u gedurende het opleidingstraject alle kennis over de verschillende extremiteiten nog eens rustig, op uw eigen tempo bestuderen.
Program
Trainer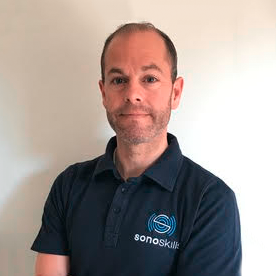 In 2017 Rob joined the SonoSkills trainer team. He studies physiotherapy and manual therapy and eventually a MSc...
Read full profile
Our COURSE PARTNER
Enraf-Nonius
Enraf-Nonius is distributeur van diverse echografie merken zoals Esaote, Hitachi, Philips en Konica Minolta. Naast echografie bieden ze diverse producten aan voor een complete praktijkinrichting.
Visit website