BEST SELLER!
Muskuloskelettaler Ultraschall - Level 1 (Teil 2)
Nach Abschluss dieses Kurses sind die Teilnehmer in der Lage den MSK Ultraschall in der klinischen Praxis in einer qualitativen und kritischen Art und Weise anzuwenden. Die Teilnehmer werden lernen wie man die Strukturen der oberen und unteren Extremität untersucht. Dieser hands-on Kurs setzt eine aktive Teilnahme voraus.
WHAT YOU'LL LEARN
Verständnis für die 3-dimensionale anatomische Interpretation von Extremitätengelenken der Unteren Extremität, mit dem Mindeststandard der im ESSR Protokoll (European Society of Musculoskeletal Radiology) erwähnten anatomischen Strukturen. Der Fokus liegt hierbei auf der Morphologie, deren funktionellen Beziehungen und die Konsequenzen für den Muskuloskeletalen Ultraschall.
Verständnis für die 3-dimensionale anatomische Interpretation im Muskuloskelettalen
Verständnis für die Verwendung und Anpassung der wichtigsten Funktionen des Ultraschallsystems, wie Gain, Tiefe, Frequenz und Fokus
Fähigkeiten und Verständnis darüber, wie qualitativ zu schallen ist unter Heranziehung der "3x4 Checkliste für qualitätsoptimiertes Schallen"
Korrekte Handhabung des Ultraschallkopfes um eine optimale Bildqualität zu erreichen, ergonomisch zu arbeiten und Artefakte zu verhindern wo möglich.
Eine sichere, korrekte und beständige Durchführung der Muskuloskelettalen Ultraschalluntersuchung der Extremitätengelenke durch Nutzung der SonoSkills Protokolle, welche auf denen der ESSR (European Society of Musculoskeletal Radiology) basieren.
Fähigkeiten standardisierte Messungen von Anteilen der Extremitätengelenksanatomie in zwei Ebenen mit Muskuloskelettalem Ultraschall durchzuführen.
Kritische Reflexionsfähigkeit von Messungen bezüglich: Reproduzierbarkeit, Standardisation, und Orientierungspunkten.
Spass und Erfolg beim Arbeiten mit MSK Ultraschall
Nutzen von Foren/Netzwerken/Studien
Implementierung in Praxis/ROI
Zielgruppe
Physiotherapeuten, Osteopathen, Chiropraktiker und Ärzte

Lernpensum
Totales Pensum für den ganzen Basiskurs Level 1 beträgt ca. 110 Stunden (inkl. Vorbereitungszeit, Nachbearbeiten des Kurses und Heimübungen). Level 0 ist für Level 1 keine Voraussetzung.

elearning
Alle SonoSkills Kurse werden im Rahmen des "Blended Learnings" unterrichtet. Dies bedeudet eine Kombination aus Online Lernen und praktischem "Hands on" Lernen. Das "Blended learning" ist ein zusätzliches Element zu klassischen Unterrichtskonzepten welches den existierenden, praktischen Vor-Ort-Unterricht unterstützt. Dieses Konzept kombiniert die besten Elemente des "face to face teachings" (personalisiertes Lernen und soziale Interaktion), während es eine größere Variabilität und Flexibilität zulässt als im klassischen Unterrichtssetup. Hiermit wird einem modernen evaluierten Lernkonzept Rechnung getragen. Über 150 Videos und über 16 Std. Inhalt sind für Sie auf Abruf verfügbar - vor, während und nach dem Kurs. Sie haben nach Kursabschluss 365 Tage Zugriff auf die Elearning Plattform. Danach können Sie Ihr Abbonement jederzeit verlängern.
Trainer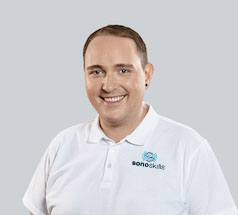 Andreas is born in Altstätten, SG, Switzerland, has started his career as a physiotherapist in 2007. After 6...
Read full profile