Basisopleiding Hand/Pols Echografie - Level 1
De basisopleiding is voor iedereen die echografie wil gaan toepassen in de diagnostiek en evaluatie van hand- en polsklachten. De opleiding bestaat uit twee delen, deel 1 is de basisopleiding, deel 2: masterclass verdieping. Na het volgen van de opleiding kan de cursist ESSR-pols-protocol toepassen in de praktijk, als diagnostisch instrument.
WHAT YOU'LL LEARN
De cursist leert de theoretische en praktische grondbeginselen van musculoskeletale echografie. de cursist leert hoe verschillende anatomische structuren zich in echografie tonen. de cursist leert het ultrasound apparaat te bedienen
de cursist leert de 3 dimensionale topografische- en functionele anatomie van de laterale- en mediale elleboog, onderarm, pols, hand en vingers in de snijzaal
de cursist leert het echografisch geprotocolleerd scannen van diverse anatomische structuren in de laterale- en mediale elleboog, extensoren compartimenten en carpale tunnel.
De cursist leert hoe pathologie te herkennen in echografie. De cursist krijgt (echografische) informatie over de meest voorkomende pathologieen in de laterale- en mediale elleboog, extensoren compartimenten en carpale tunnel.
De cursist leert echografie in te zetten binnen het klinisch redeneerproces van de hand en kan daarmee de bevindingen vanuit het functieonderzoek toetsen.
Casuïstiek: Wrist masses, Reuma, Trigger finger
Deel 1
De beginnende echografist krijgt een inleiding in musculoskeletale echografie en leert het basis-ESSR-pols-protocol (level 1). Hierbij zullen de volgende onderdelen aan bod komen: anatomie van de elleboog en de gezamenlijke extensoren. Daarbij zal bij ieder onderdeel van het protocol eerst een demo gegeven worden, waarna in tweetallen uitgebreid zal worden geoefend. Er zal vanuit eLearning onderdelen, de interactieve presentaties, hands-on oefeningen en casuïstiek-colleges inzichtelijk worden wat de toegevoegde waarde is van het inzetten van echografie ondersteunend en toetsend binnen het klinisch redeneerproces en het fysiotherapeutisch handelen.

Deel 2
Deze cursus geeft een verdieping van de anatomische kennis door middel van snijzaalpracticum, verdieping scantechnieken van de pols, carpale tunnel, duim en vingers, uitgebreide pathologie van de onderarm, pols, vingers en duim.
Er is aandacht voor de diagnostische echografische vaardigheden binnen het fysiotherapeutisch onderzoek in theorie. Hier wordt tijdens interactieve presentaties op teruggekomen. Tijdens de hands-on-uren en pathologie-presentaties wordt ingegaan op hoe de echografie het klinisch redeneren en het fysiotherapeutisch handelen ondersteunt. Er zijn ook specifieke casuïstieken, zoals polsklachten, reuma en de triggerfinger, opgenomen in de cursus; deze worden uitgebreid behandeld.
Program
Trainer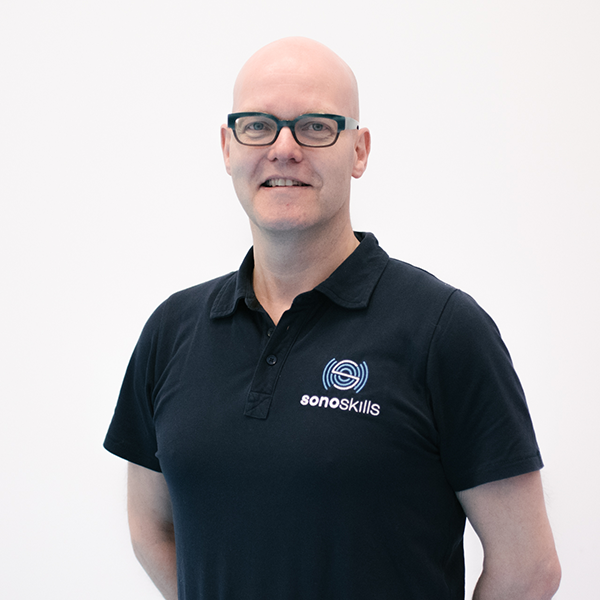 Ferd is physiotherapist and manual therapist close to the SonoSkills headquarters in Roermond, Netherlands. He has...
Read full profile
Our COURSE PARTNER
Enraf-Nonius
Enraf-Nonius is distributeur van diverse echografie merken zoals Esaote, Hitachi, Philips en Konica Minolta. Naast echografie bieden ze diverse producten aan voor een complete praktijkinrichting.
Visit website