Webinar: MSK Ultrasound of the Wrist, Finger and Thumb Joints
In this comprehensive 3-part series on hand ultrasound, we will deepen your ultrasound knowledge of the hand region. Each session we will refresh and update your (sono)anatomy skills and discuss interesting hand pathology cases.
WHAT YOU'LL LEARN
Hand anatomy
Hand sonoanatomy
Transducer positions to scan static tissues
Scanning dynamical wrist, finger and thumb movements
Pathology recognition of several hand pathologies
Schedule & Topics
Part 1: Tuesday November 2nd, 7:00 - 8:30 PM (CET) - Wrist
Radiocarpal, midcarpal and carpometacarpal joints, Extensor compartments, APL, EPB, ECRB, ECRL, EPL, EDC, EIP, EDQ, ECU, SLL, LTL, TFCC, dorsal sling, carpal tunnel, CTS- protocol,median nerve, guyon tunnel, ulnar nerve, FDS, FDP, FPL, QP, PL, flexor retinaculum

Part 2: Tuesday November 9th, 7:00 - 8:30 PM (CET) - Fingers
MCP-, PIP-, DIP- joints, FDS, FDP, lumbricals, interoesseii, volar plate, checkrain ligaments, cruciform pully's, annular pully's, extensorhood, central slip, terminal slip, lateral slip, saggital band.

Part 3: Tuesday November 16th, 7:00 - 8:30 PM (CEST) - Thumb
CMC1, SST, IP joints; APL, EPB, EPL, adductor apponeurosis, UCL, RCL, A1-pully, sesamoids, thenar muscles, FOOSH-protocol, scaphoid.


Content
The aim of this 3-part course is deepening the ultrasound examination of the hand. We will discuss (sono)anatomy, transducer positions and sonopathology positions on an intermediate level with adding more in-depth information and new positions to your foundational level knowledge and skills. We will review the theory and practice ultrasound skills of several important osseous, cartilaginous, capsuloligamentous, myogenic, neurogenic, and vascular structures. We will also share with you some interesting literature which you can study after the webinar to deepen your knowledge. All content is on an intermediate level.


Replay webinar
Can't join the live webinar? No worries, you'll receive access to our eLearning platform where the recordings of the webinar are available for 1 month after the start of the 1st session.


Certificate
After completion of the full webinar you'll receive a digital Certificate of Attendance.

Trainer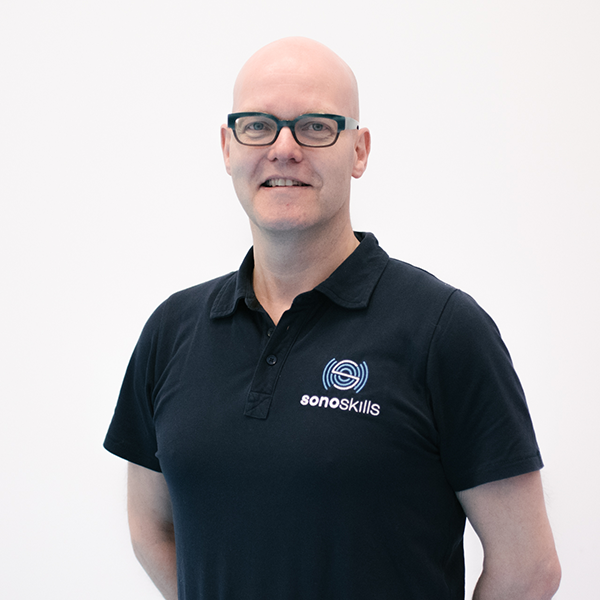 Ferd is physiotherapist and manual therapist close to the SonoSkills headquarters in Roermond, Netherlands. He is...
Read full profile