BEST SELLER!
Muskuloskelettaler Ultraschall - Level 1 (Teil 1)
Nach Abschluss dieses Kurses sind die Teilnehmer in der Lage den MSK Ultraschall in der klinischen Praxis in einer qualitativen und kritischen Art und Weise anzuwenden. Die Teilnehmer werden lernen wie man die Strukturen der oberen und unteren Extremität untersucht. Dieser hands-on Kurs setzt eine aktive Teilnahme voraus.
WHAT YOU'LL LEARN
Das Konzept des Muskuloskelettalen Ultraschalles kennen lernen und verstehen
Den Mehrwert des Muskuloskelettalen Ultraschalles in der medizinischen Grundversorgung erkennen/nutzen
Die exakte Verortung des Muskuloskeletalen Ultraschalles in der medizinischen Grundversorgung definieren
Die Rolle des Muskuloskelettalen Ultraschalles innerhalb des ICF Schemas, im clinical reasoning, als auch beim treffen klinischer Entscheidungen einordnen
Faktoren, die qualitätsentscheidend sind für Muskuloskelettalen Ultraschall erkennen und anwenden
Unterschiede in der Erscheinung der verschiedenen anatomischen Gewebe im Muskuloskelettalen Ultraschall kennen lernen
Implementierung des MSK Ultraschalls in die Gesundheitsfachberufe -wie und warum
Lernen wie das Ultraschallsystem zu bedienen ist (Knopfologie)
Verständnis für die funktionelle 3D Anatomie der oberen Extremitätengelenke entwickeln
Fähigkeit erlangen, alle Protokolle der ESSR für die obere Extremitätengelenke in korrekter und zuverlässiger Art und Weise anwenden zu können.
Korrektes Arbeiten mit dem Ablaufschema für ein zuverlässiges Scannen (3x4 Checkliste für Qualitätsoptimiertes Schallen)
Pathologien der besprochenen Regionen kennen lernen (eLearning Plattform)
Zielgruppe
Physiotherapeuten, Osteopathen, Chiropraktiker und Ärzte


Lernpensum
Totales Pensum für den ganzen Basiskurs Level 1 beträgt ca. 110 Stunden (inkl. Vorbereitungszeit, Nachbearbeiten des Kurses und Heimübungen). Level 0 ist für Level 1 keine Voraussetzung.

elearning
Alle SonoSkills Kurse werden im Rahmen des "Blended Learnings" unterrichtet. Dies bedeudet eine Kombination aus Online Lernen und praktischem "Hands on" Lernen. Das "Blended learning" ist ein zusätzliches Element zu klassischen Unterrichtskonzepten welches den existierenden, praktischen Vor-Ort-Unterricht unterstützt. Dieses Konzept kombiniert die besten Elemente des "face to face teachings" (personalisiertes Lernen und soziale Interaktion), während es eine größere Variabilität und Flexibilität zulässt als im klassischen Unterrichtssetup. Hiermit wird einem modernen evaluierten Lernkonzept Rechnung getragen. Über 150 Videos und über 16 Std. Inhalt sind für Sie auf Abruf verfügbar - vor, während und nach dem Kurs. Sie haben nach Kursabschluss 365 Tage Zugriff auf die Elearning Plattform. Danach können Sie Ihr Abbonement jederzeit verlängern.
Program
Trainer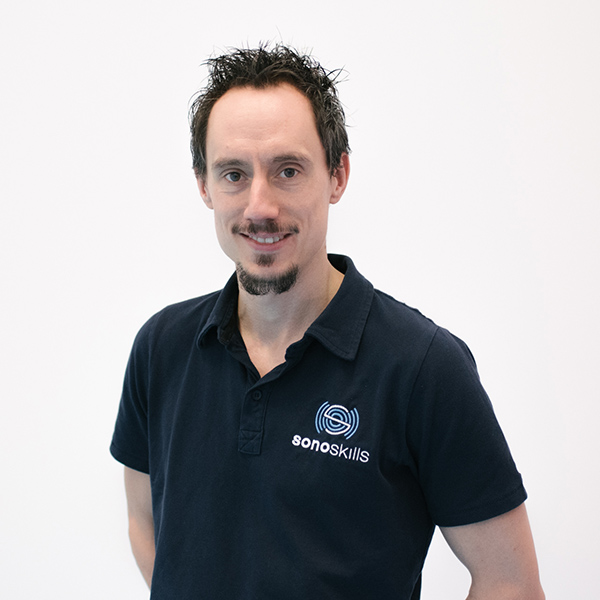 Moritz never feels comfortable within static situations, given positions and established strategies -why? Because he...
Read full profile
Our COURSE PARTNER
Fobize Kiel
Das FobiZe ist eine private Bildungseinrichtung in Bremen mit verschiedenen Standorten im Nordwesten. Wir bieten Fort- und Weiterbildung insbesondere für Physiotherapeuten an. Aber auch an Masseure und med. Bademeister, Ergotherapeuten, Logopäden, Ärzte, Sportlehrer, Gymnastiklehrer, Hebammen, Heilpraktiker und andere Angehörige medizinisch-therapeutischer Berufe richtet sich das Kursangebot.
Visit website