Advanced MSK Ultrasound of the Wrist, Hand and Fingers - Level 2
This premium advanced skills-based course focuses on MSK ultrasound of the wrist, hand and fingers region. In 2 high-paced days we'll go "beyond the basics" and advance your sono skills. Course includes 4,5 hours of on-demand eLearning, so that we'll spend 2 packed days hands-on the ultrasound device.
WHAT YOU'LL LEARN
Carpal bones and joints, carpal ligaments
Exstensor and flexor tendons
Innervation and anatomic variations
Wrist vascularisation
Carpal joints with TFCC
Fingers joints and tendons, Pully mechanism
Accessory muscles
Thumb, thenar, Thumb and finger pathology.
Elbow bones, joints, muscles
Vascularisation of elbow
Pathology and clinical reasoning
Detailed anatomy with scanning protocols
The aim of this two day course is deepening the ultrasound examination of the wrist, hand and forearm, in which probe positions are discussed from the basic course and expanded with additional in-depth information or new positions. We will review the theory and practice ultrasound skills of several important osseous, cartilaginous, capsuloligamentous, myogenic, neurogenic, and vascular structures. We will not only have a look at normal anatomy, but also discuss some interesting pathology cases. To make sure that all level 1 and 2 wrist ultrasound skills will be placed in the bigger framework of clinical relevancy, clinical reasoning and clinical decision making, we will discuss all anatomy, pathology and probe positions to the clinical examination.
Trainer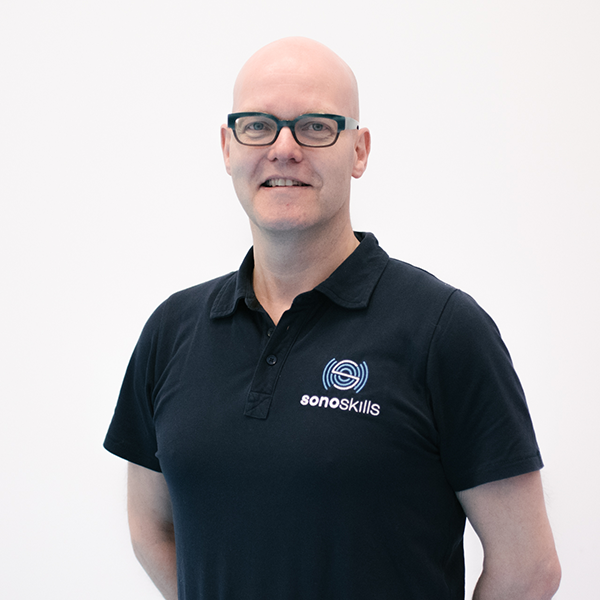 Ferd is physiotherapist and manual therapist close to the SonoSkills headquarters in Roermond, Netherlands. He has...
Read full profile